I want to send many hugs out to
Tabatha
today. Tabatha is mom to Savanna and today is her first birthday. Savanna passed away just 4 months ago. Even though I know I will be facing a first birthday in 5 short months, I have a hard time imagining what moms like Tabatha go through. They've had time to bond with their children, time to see them laugh and grow, time to see so much potential, only to have that potential taken away so suddenly. It's just not right. Tabatha is an extremely strong woman, she's has been very supportive of me, as she has of many BLMs.
I also want to send out hugs to Carleigh's mom,
Holly
. This is Carleigh's second birthday away from her parents. A celebration of a little girl's life...a little girl who should be here with her parents, yet she is not. Happy birthday sweet Carleigh.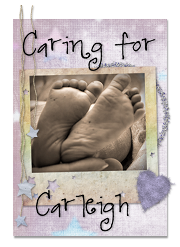 Tabatha and Holly, I hope today is as easy as it can be on you. I know it must be difficult, I can't even wrap my head around how you must be feeling. Just know I am thinking about you, sending you love, hugs and strength. Stay in bed all day if you have to...do what is best for you and if you need anything, please don't hesitate to ask.